Mardi Gras or Fat Tuesday, is one of the largest festivals of the year with history dating back to the 18th century. Although the largest festival takes place in New Orleans, Louisiana, you can bring Mardi Gras right to your own home as I provide helpful and easy Mardi Gras decoration ideas using flowers!
Create Your Own Mardi Gras Flowers Decorations
Purple, green and gold are the most popular colors for Mardi Gras, so why not create a Mardi Gras floral arrangement that celebrates the occasion! Whether you're looking for a decorative centerpiece or festive conversation starter, it's easy to create your very own Mardi Gras flowers.
Mardi Gras Flowers in Purple, Green & Gold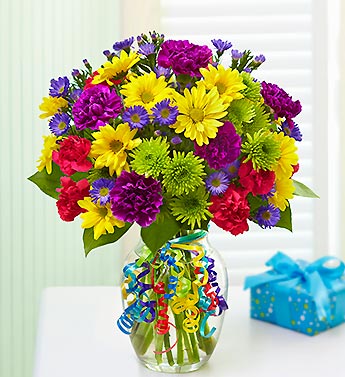 Buying purple, green and yellow flowers and placing them in a decorative vase is a great way to spice up any space for Mardi Gras. Take the three 3 colors of flowers and place them in a vase for a Fat Tuesday mixed bouquet that will be the hit of any party. If you're feeling ambitious, find Mardi Gras beads or fancy masks to mix into your arrangement. If you can't find flowers in the colors of green, purple or gold (yellow), you can always buy white flowers and dye your own. Depending how creative you want to get, you can even create DIY Mardi Gras picks with fancy masks and plastic beads to really take your bouquet to the next level. Use glue to attach ornate Mardi Gras masks and feathers to skewers for a stunning effect.
If you don't feel like arranging your own bouquet, you can also find already arranged flowers with similar colors like 1800Flowers' It's Your Day Bouquet®.
Create a Mardi Gras Vase Using Festive Beads
Those festive purple, green, and gold beads are flooding the walls of your local party stores during this time of year, so grab a bundle of these inexpensive plastic necklaces to help dazzle! Throw a few necklaces into the vases (instead of water) or use a glue gun to wrap the beaded necklaces around the outside of the vase. For a funny and unexpected surprise, consider gluing a plastic baby to the bottom of the vase, similar to the Kings Cake. Now, it's time to fill your Mardi Gras vase with some festive flowers!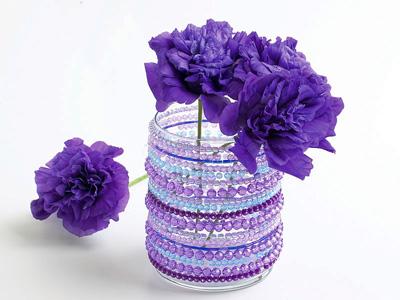 Create Wearable Floral Décor
Turn flowers into interactive décor by creating beautifully festive corsages, headbands, and pins! If you plan on handing out Mardi Gras beads at your soiree, attach flowers to them! Using a simple needle and thread, poke a hole through the bottom of the flower (closest to the stem) and create a loop around the necklace. Then, simply tie a knot to secure and voila – you have a beautiful Mardi Gras flower necklace!
Add Flower Bundles Throughout
Putting together a jaw-dropping centerpiece is the first step, but be sure to keep the Mardi Gras feel going throughout the whole event space! Pair appropriate colors together in bundles and create mini bouquets to spread all over the room. Add these tiny arrangements to any areas that could use a bit extra oomph – empty tables, mantle pieces, patios, and even bathrooms!
Decorate Food with Flowers
The menu is one of the most important parts of any celebration..especially one called "Fat Tuesday!" Take some extra care when preparing your Cajun-inspired menu and decorate the dishes with some fragrant, freshly cut flowers – sure to wow guests and make for some photo-friendly foods!